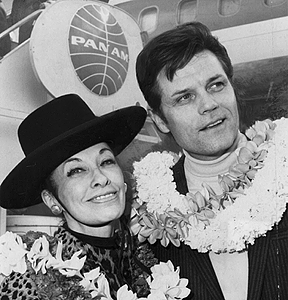 Jack and Marie Lord in a 1968 photo.
?
---

Marie Lord?
?an old-fashioned wife?
By Tim Ryan
Star-Bulletin

?
---

Marie Lord was shocked.

"Oh, for God's sake, no!" she said. "The answer is no, no, no! Of course, Jack does not have Alzheimer's. He's not ill. I feed him three times a day; he has a big appetite, loves to eat."

"Jack" is Jack Lord, who played Steve McGarrett for 12 years in "Hawaii Five-0," the longest running hourlong drama in television history. The show is still broadcast in dozens of countries around the world.

The question is pertinent because Lord hasn't been seen in public for years and his mystique increases with the lack of appearances. And during the next three weekends, a local TV special and two conventions - one in Los Angeles and the other in Honolulu - will put the spotlight on "Five-0." Though the actor won't be at any of these events in person, he'll be there on film and in spirit as fans and fellow cast members celebrate the series.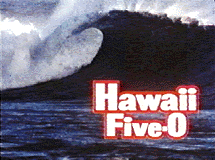 Rumors about Lord's poor health have circulated for years. Last month, the National Enquirer claimed Lord was on his "last legs" and displayed photos of him shot on Kahala beach two years ago because no current pictures are available.
"He's not impaired or anything," Marie emphasized, during an interview by telephone. "We recently had a physical check up and were given a clean bill of health. Maybe we'll live to be a hundred and everyone will be sorry about saying these things."
She declined the Star-Bulletin's request to speak, visit, or photograph her husband for this story.
"Jack has just never liked...being interviewed."
"He doesn't like talking about himself or having strangers coming up to him when he used to go out," she said.
Used to?
"Yes, well, Jack used to be very active, but now he's just happy staying home doing nothing, happy having me wait on him. He was such a vital person, always so strong and big. It's strange to see him sitting around being happy just getting tan on the lanai or reading."
But particularly disappointing, Marie said, is her Lord's lack of interest in the painting he loved.
"That does break my heart," she said. "He's just gotten lazy and laziness feeds on itself, becomes a habit."
Rumors that Lord requires a full-time nurse are also false, Marie said. The couple has had "a secretary" for about 18 months, "not a registered nurse, but a kind of a companion."
Marie joyfully says she's her husband's guardian, caregiver, "an old-fashioned wife" who loves to cook and make her husband happy.
"It's always nice to have someone who lives for you and that's what I do with Jack."
Marie won't give their ages nor the year of their marriage other than to say both were in their "early 20s, married on April 1 in the early 1950s in New York City."
The memories of the couple's early life, how they met, some of their life now are the things which Marie enjoys discussing.
"I'm a housewife in the true sense of the word," she said. "Jack loves Italian food because he grew up in Brooklyn with Italian neighbors and loves the smell of tomato sauce. He loves my lasagna and chicken cacciatore."
Early morning breakfasts always begin with "fresh coffee with hot milk and a croissant."
When her husband was filming "Five-0" episodes, the couple awoke at 3:30 a.m. so Jack could rehearse, rewrite, if needed.
"We would sit down on the couch and he would read his lines to me."
The Lords live in a large ocean view, three-bedroom, two-bath condominium next to the Kahala Mandarin hotel.
The couple were an unlikely pair when they met more than 40 years ago. Marie DeNarde was a fashion designer, Lord was in the merchant marine.
She had designed and had built a stone country house near Woodstock, N.Y., for weekends. Jack, on leave, had gone hunting in the area when he was saw the house. He got Marie's New York City address from a local merchant and for the next three weeks left messages with her doorman. Finally, she called him thinking he was a pushy real estate agent.
"All he knew about me was my house, which he had fallen in love with. But I agreed to meet with him briefly.
"He was this big guy in a black storm trooper's coat and hat pulled down over his forehead. His chest came straight out; you could put a bottle of beer on each shoulder they were so square. And he had these pink cheeks. He looked like an ad for Wonderbread."
They talked for hours, Jack fascinating Marie with his experiences on the high seas.
The couple, married a few years later, choosing not to have children when Jack decided on show business as a career.
"My idea of a good family was to have six children. But I pitched my tent for Jack. I think I did the right thing; I certainly tried."
The lack of children has led Marie "to adopt and shower too much love on younger people." These days she's showering that affection on a cat, Kitty Boy, gotten from the Hawaiian Humane Society.
"Oh, Jack really loves Kitty Boy. I put Kitty Boy in his arms and he just hugs him and hugs him."
Marie says she's had "a full life."
"Jack wants to be remembered as a decent guy, good at what he did, and honorable. He wants everyone to know that staying home is heaven for him."